You need to ensure that your kids enjoy learning and get inspired to do it of their own accord. But the question here is can kids learning at home be adapted forever? They should love it, not hate it. The best way to do that is to make them curious. Give them some food for thought (according to their age, of course). For example, every day, the first thing in the morning, tell them an interesting fun fact. Something that will spike their curiosity and make them go 'Woah! How does that happen?' and they will be brimming with questions and dying to learn more.
Use interactive tools and worksheets. Whether you have young children learning to read and write or older ones struggling through algebra and Newton's Laws, and more; interactive tools are always helpful. For younglings, there is a multitude of reading apps available online, e.g., SNAP Learning, Reading Rainbow, etc., that make reading fun even for children who find it extremely boring. There are even reading books made especially for children; even things as simple as the alphabet are made interesting through these innovative books (e.g., Once Upon an Alphabet by Oliver Jeffers).
For growing children and teens, are applications and websites which make even the driest of subjects fun; BYJU's is a great example of such an application; it consists of videos for all subjects and age groups, but what's different is the way those subjects are taught, with visual exercises and unique underlying concepts that hit the chord of interest in your child's brain and make learning fun. Instead of traditional, plain worksheets and workbooks, look for innovative ones, ones that are as tricky as children, and engage them; e.g., want to match the number to quantity, how about they go through a maze to do that?
How Can Kids Learn At Home – The Outdoor Teaching Method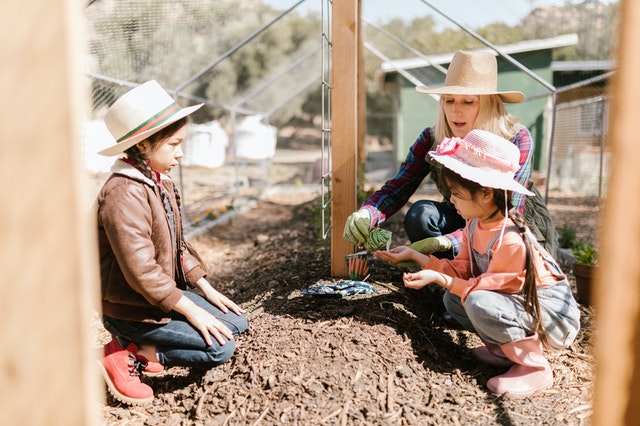 Teach outdoors; outdoors is a great learning place. Who isn't refreshed by a little exposure to nature? Moreover, the opportunities available outdoors are limitless, especially if you live in the countryside. Take your children to parks and nature reserves, show them what nature has to offer, from the types of plants to different animals, and more. Let them question the miracles of nature and build their independent thinking skills.
Essential To Be Involved In Learning
Get involved. This is the most important thing. Get involved with your children in learning, no matter how old they are. Learn with them. Teach each other. Let them feel like they are not alone, and doing a job only meant for them, but show them interest so they will follow. Give them a live example. Tell your own stories. Listen to their stories. Just be a part of your child's learning process! For young kids, bedtime stories are a great way to engage with them. If you are teaching skills like cooking, give them hands-on experience with you.
Resource For Kids Learning At Home
The Classroom Key:

This website is a great source for activities and lessons for tutoring your kids at home. Reading to writing to maths has all the creative learning tools you need to teach your children.

Khan Academy:

It has fun video lectures for children of all grades and detailed courses on subjects of maths, physics, and computers, along with online exercises, tests, and more to reinforce the learned concepts. It also has resources for teachers and parents to help with their tutoring process.

Homeschooling-Ideas: This website offers a complete guide to homeschooling from scheduling to activities to printable worksheets and much more. They also have a Facebook page you can visit for more information and sources.
Ted-Ed:

Again, a complete website for students of all ages wanting to learn and teachers and parents looking for sources and tips on schooling.

National Geographic Kids:

We have all seen the interesting programs the Nat Geo has to offer for us, but their Nat Geo Kids is especially for your children with the most interesting videos and games and more on all the various subjects.
These are just some of the many resources available online. For teaching books is:
https://www.teacherspayteachers.com/

https://www.totschooling.net/;

is for your toddlers and has games and activity worksheets for them.

https://www.abcya.com/

and

https://www.starfall.com/h/;

are interactive websites with fun learning games for your young children.

https://wanderhomeschooling.com/;

is another great website for home-schooling tips and sources, especially for arts and other creative subjects.

https://www.bbc.co.uk/bitesize/;

is one of the best learning websites for students of all ages and teaching websites for teachers and home-schooling parents.
The Subjects for Kids Learning At Home
There are also subject-specific websites available, e.g., for arts, science, cooking, and more. Just a quick google search, and voila! Unlimited options! And still, feel like something is lacking? Then you can always visit Pinterest to find bucket loads of home-schooling ideas and resources by fellow parents, teachers, and even expert educators.
I am sure now the task of home-schooling your children in this Covid-19 pandemic doesn't seem as daunting as it did before!
Whereas one child might be quiet and does what he is told, the other might be hyperactive and needs to be tackled differently. Similarly, one child might be a quick learner, requiring minimum effort from you, but the other might need extra attention to get to the same page. Or one child might be good at technical subjects like maths and science, whilst the other may be more creative.
The point is, each child has to be catered to according to their specific needs. This is exactly what most educational institutes fail to do and why so many parents have been home-schooling even before this pandemic. Furthermore, children get easily bored and tired, frustrated even, and thus, need to be handled carefully.
Keep reading our latest article for some more exciting kids learning at home activities in 2021 and 2022.