A fresh set of wheels comes with some pride. That is because new truck rims can give your car an upgraded look. You may require new wheels for your truck for a variety of reasons. Maybe the old ones are worn out, you want your truck to perform better, or you just want a change. Whichever reason you have for changing your wheels, there are many types to choose from. And if you haven't decided what you want yet, picking the appropriate one might be difficult. Here is a guide that assists you in choosing the best wheels with black rims for your truck.
Start With The Right Suppliers
The first step in buying the right truck wheel is finding a reputable supplier. Unfortunately, it is not as simple as it appears. There are many unethical car part sellers out there. You buy a product from them only for it to break down after a short while. Poor-quality wheels with black rims can be dangerous as they pose the risk of an accident. Check the reputation of sellers before buying products from them.
At this age, almost all businesses have an online presence. It will not take too much to find this information. Previous customer reviews will reveal the type of seller you're working with. If you decide to take your car to an auto shop for this service, ensure it is someone you trust. Mechanic rip-offs are not something new. Unfortunately, some mechanics can install poor-quality wheels on your trucks which will not last long.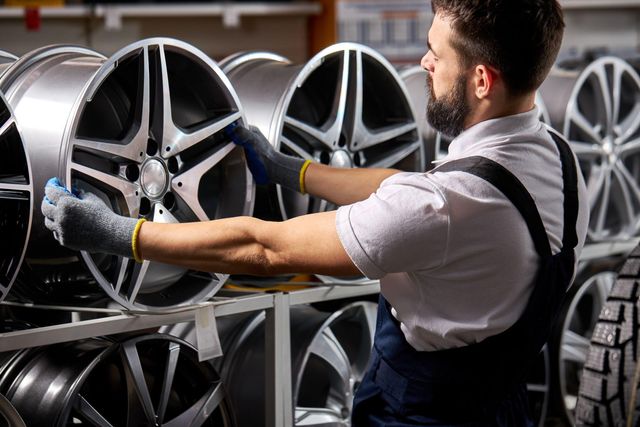 Factor In Your Driving Conditions
One of the major factors to consider when choosing wheels for your truck is the driving conditions. At the end of the day, the type of wheel you go with will affect how your truck performs. Here are the three types of wheels you can choose depending on how you use your trucks.
Steel: If you are looking for wheels that will properly support you during off-road adventures, go with steel wheels. Thanks to their strength, they can hold really well in rough terrain. Their weight allows them to stick on the road even when going through mud, snow, and gravel. Steel wheels are easier to clean, repair, and maintain. However, compared to alloy wheels, steel wheels do not have many designs.
Cast alloy: If your truck is mostly limited to the streets and other light uses, cast-alloy wheels are ideal for you as they are lightweight yet strong. They can withstand heat and are usually more attractive compared to steel wheels.
Forged alloy: These types of wheels are perfect for anyone that spends a lot of time both off-road and on the streets. The dense alloy they are made of makes them corrosion-resistant and durable. Although they have steel strength, they are lighter.
Related article links:
Choose The Right Size Wheels With Black Rims
When looking for wheels for your truck, factor in the size of your tires as well. The diameter of the tire and the rims need to be the same. However, if you are getting new wheels with black rims and tires as a package, this is not something that you will have to worry so much about. Even if you are not sure what size is right for you when buying, the assistant at the shop will be happy to help you with that.
Choose The Color And Finish That Work For You
Colored rims may give your truck a unique look. Matching your rims to the shade of your truck will give it a bold character. Choosing the color is all about preference. So do not shy away from choosing something that will bring you joy.
Besides color, rims also come in different finishes, such as paint-coated, powder-coated, chrome-plated, bare-polished, and clear-coated. Each finishing requires some level of upkeep and protection from harsh elements. This is also a decision you make based on what you like.
What You Want To Achieve
Choose wheels based on how your car serves you. If you want to improve the look of your truck, go for something flashy. If you are looking for wheels that will support your off-roading experience, then get steel wheels.
Your Budget
Lastly, your budget matters too. Even as you explore the many types of wheels out there, be realistic about how much you can comfortably spend on car wheels. Wheels can cost from about $100 to $800 or more. High-end wheels with custom designs or features will cost you more. However, do not compromise quality for cost. It is better to take time and save up to end up with quality wheels rather than buy something cheaper that will not serve you well. Also, note that having your wheels installed by a professional will cost you about $20-40 per wheel.
This data might assist you in selecting the appropriate wheels for your truck. When buying wheels, feel free to ask the attendant or customer care support as many questions as possible. The more you understand, the higher the possibilities of picking suitable wheels with black rims for your truck.
Source: