If you're a new cannabis user, you probably have many questions. You may be aware there are various ways of weed consumption, but smoking is certainly the most prevalent. Indeed, rolling a joint is a no-brainer and will only take a few seconds.
Convenience and ease are certainly advantages of this method. However, the thought of the not-so-pleasant smell of burning weed puts you off the joints. Also, if you have already tried this method, it could happen that you inhaled too harshly and then coughed or felt a burning sensation in your throat.
Seasonal weed users recommend a bong (water pipe or bubbler) to beginners. It's a smoking device with a water chamber, which serves as a filter during cannabis smoking. Therefore, hits are incredibly light, tasty, and free of toxins that can irritate your respiratory tract. If these reasons ring your bells, check freeze pipe bongs to see their offer, and we'll guide you through the ins and outs of this smoking device.
Bong Anatomy
Although you may come across models that seem like mini works of art, a bong works on a simple principle. It consists of a chamber with a neck. On the side, there's a part called the downstem with a bowl. Some of these are detachable for easy cleaning.
A water chamber, as its name suggests, holds water, which is actually a filter. The downstem is a thinner tube that enters this chamber at one end and has a bowl where you pack dry cannabis at the other. The mouthpiece on the neck is the part through which cannabis vapor comes out after passing through the water chamber.
Visit: Eager For Vaping, May Be It Is Better Than Inhaling?
Handy Add-Ons
The "basic" bong shape does a pretty good job, even for beginners who enjoy clean, smooth hits without unpleasant odors on their fingers or clothes. What will further delight them are the accessories that will raise their smoking experience to an even higher level. For starters, these are ice and ash catchers.
The first gadgets sit inside the neck and serve to put an ice cube on them. It's like an additional filter that makes hits even colder and tastier. Ash catcher also purifies the smoke. You put it between the bowl and a chamber, where it filters smoke from ash and resins before it gets into the water. Not only are hits smoother, but your bong is cleaner as most sticky stuff remains in the ash catcher.
Besides dry buds, you can also use concentrates in bongs (see on this link what these are) and thus turn your bubbler into a dab rig. For that, you need a quartz banger, which is deeper and made of thicker material than a regular bowl. Eventually, you need adapters and converters if your bong has a different joint type than a banger.
How To Use A Bong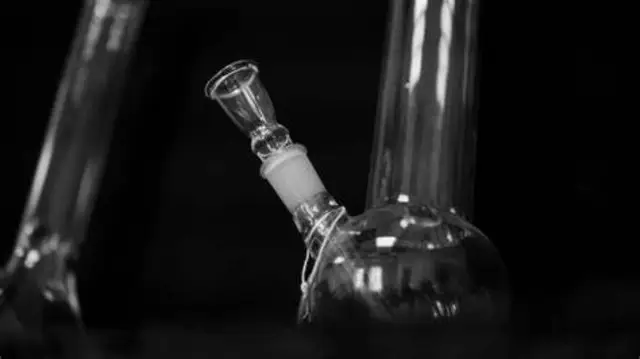 You've seen others using a bong, or maybe you've come across various tutorials that explain how to get the most out of your smoking device. The usage is straightforward, but it's not out of place to explain it in simple words so that beginners can understand.
Before hitting up your bong, you have to set it up. We've already explained its parts, and assembling is a breeze. Then, pour in some water. It's best to use distilled water to prevent scale build-up, but if you don't have it, tap water will do. There should be just enough water for the downstem to be immersed.
Now, put your mouth on the bong neck, add dry ganja to the bowl (or concentrate on a quartz banger), and light it up. For dabbing, you should use a torch because a banger takes longer to heat up. When the weed is heated, take a deep breath so that the smoke moves towards your mouth, passing through the water chamber along the way.
On that way, most impurities and combustion by-products remain in the water, so clean, tasty vapor full of THC and terpenes (they don't break down in water) comes out of it. When the chamber is filled with smoke, remove the bowl to improve airflow and push the smoke to your lungs. Hold your breath for two to three seconds, and then exhale. Repeat the process and enjoy.
If you're a complete beginner to weed, here is what you should know.
Cleaning
To enjoy your smoking to the fullest, your devices should be sparkling clean. If you don't change the water and clean your bubblers, dirt and resin deposits can cause bacteria and fungi growth. These can change the taste of your hits and, more importantly, harm your health.
Besides changing the water, you have to clean your bubblers regularly. Ideally, you should do that after every use, when it takes just a quick disassembly and rinsing with hot water. Do deep cleaning at least once a week, using alcohol and coarse salt.
Which Bong Is Best For Beginners?
In principle, no bong shape is pre-made for beginners. They come in different shapes, sizes, and materials to meet smokers' preferences rather than experience. Still, if you're looking to buy a bong as a beginner, you might want to try some that are more beginner-friendly first.
Choosing the size doesn't depend on whether you're a beginner but on how you plan to use your bubbler. The bong material contributes not only to its appearance but also to its functionality. Silicone and acrylic are affordable, but you should invest extra dollars in a glass bong. It's durable, good-looking, and provides the maximum flavor of your hits.
As for the design, it's a matter of personal preference. You can go with a straight tube, which is easy to clean, or zig-zag, which prevents a water splash and ruining your hits. Beaker bongs are a good choice for weed newbies, as they have wider bottoms, so they're more stable and can't break easily.
Water bongs are great tools for weed beginners. If you use them wisely, start small, and gradually increase your intake, you can enjoy the maximum benefits of clean, smooth hits. Plus, always smoke responsibly and be aware of the legalities surrounding cannabis use in your area.
Also read: Cannabidiol (CBD): Use, Side Effects, & Dosage Everything You Need to Know