Low budget small restaurant design just at a low cost by being creative. If you are feeling hungry and you are in your office you will definitely go to a restaurant for Fast food to satisfy your hunger.
If you want to open a small restaurant on a low budget, there are some ways that you can do and your place could look more Classy than it is.
You can design a very small restaurant by just making new ideas.
1- Use Low-Cost Paintings
For restaurant owners who don't want to give a minimalist look to their restaurants, this low-budget idea is perfect to decorate their restaurants on a low budget. Just you have to search for some local painters via social media platforms. Finding a perfect artist who can do wall art, could design a perfect painting for you and go for work with him. By getting a good interior of your restaurant you can simply upload pictures on different social media platforms and boost your business.
2- Indoor Greenery
A very simple and low-cost way to slick up your interior design is to just fill up all the place with small planets in pots on the floor, and with Bails on the walls.
3- Add Several Mirrors
Adding mirrors to your restaurant is another cost-effective idea for which you can go far. You can have the extension within several designs and can make use of different sizes and shapes of mirrors at the entrance of restaurants.
4- Fairy Lighting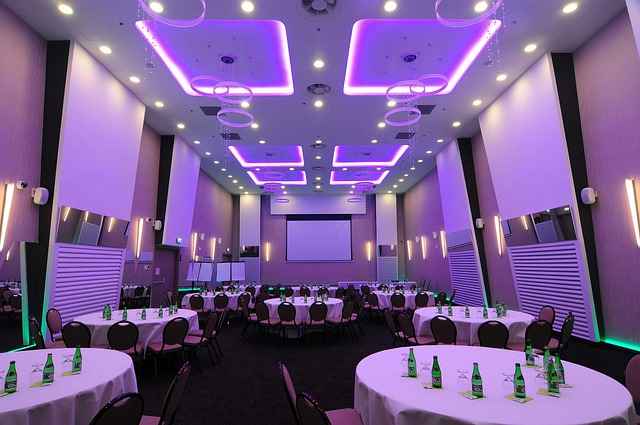 Lights are used to brighten up a place, in this cost-effective idea you can add some fairy lights to your restaurant's roof. They will give an amazing look to the roof.
5- Use Of Old Furniture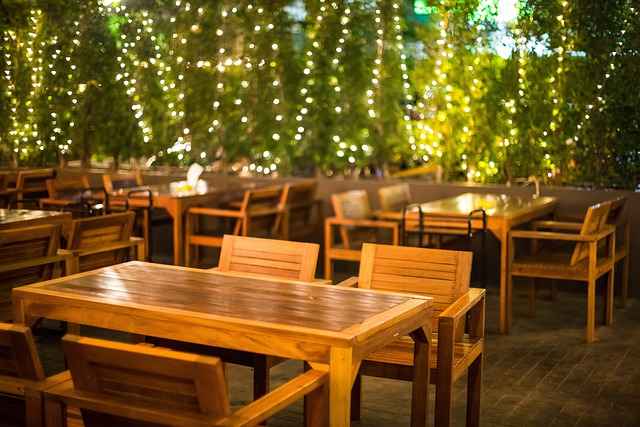 Low budget small restaurant design by buying old or used furniture at a low cost and bringing it out in your use by doing some changes to it. Make sure that the condition of the furniture is good and also the furniture is suitable for the restaurant.
6- Use Of Pipes
Buy some PVC pipes which are available at a very low cost and make a design on walls that will give a new look to your restaurant. The Bar shelves can make by the frame of pipe which can be done on a low budget.
7- LED Lighting
LED lighting is another way to design your restaurant at a very low cost. Just stick the LED lights of different colours to the corners of walls and they will shed a low light.
8- Use Of Tires
Low budget small restaurant design by buying some flat tires and painting them in different colours and hanging out them on the entrance wall of the restaurant, which will give an amazing look to the entrance of the restaurant.
How Can I Design My Small Restaurant?
Low budget small restaurant design can be minimalist and attractive depending on how well actualized and accomplished it is. A small restaurant can be made outside on the roadways or on the corners of the streets. A small restaurant's interior cost is also very low because of the small space.
There are many choices to design and decorate my restaurant on a small budget.
An upscale dining location allows you to build the most of your small place. People are ready to pay more for an adventure that gives them luxury, comfort, and impressive food. For this wood is a perfect option. You can make a small setup of wood for your restaurant.
Urban Industrial Small Restaurant
Many restaurants and Economic designers admire the adorable visual of industrial restaurants. This design build a connection in the light tones of the wooden restaurant and tribute to the darker finishes of the bar across the area and the wall colour by the entry.
Diner-Type Small Restaurant
Small restaurants, usually diners, lead to a fast business and repeat customers. Besides great service and delicious food, diners need to give luxurious furniture that combines with a neutral interior.
Smart use of floor plans, mirrors, furniture, and decoration items can provide your restaurant with a perfect classy look in a small place.
How Do You Design A Restaurant Decor?
Here are some beneficial things that can see in the decor of a restaurant.
Develop a layout plan
Create a brilliant entrance
Focus on demographics
Light it up for the customer
Be Colour-aware
Think about table styles
Install stereo system
Don't forget the restroom
The kitchen should be clean
Focus on the floor to look
What Makes A Good Interior For A Restaurant?
Some of the implements that can make a quality interior for a restaurant.
The lighting of the interior should be decent
The Colour scheme should be picked up wisely
Furniture should be modern and comfortable
The dishes in which the food is presented should be fine and clean
Music in the restaurant should be soft and low
Heating and ventilation of the interior should be taken care of
There should be Hand-washing arrangements
There should be a sweet fragrance of meals in the restaurant
How Do You Modernize A Restaurant?
To modernize a restaurant we have many choices.
Make a New Colour scheme
Add greenery to your sitting area
Hang Artwork or paintings on the main entrance of the restaurant
Use light productively
Clean your carpets
Choose the right Tableware
Up-to-date accessories
Cover the windows with beautiful curtains
Conclusion
On a low budget, small restaurants can design by just buying some cheap things and making a sense of designing and arranging them. The decor of small restaurants can be done in a small amount. Low budget outdoor restaurants design sideways on roads or on the corners of streets.
Read more: